The Protocol School of Washington's
Honor & Respect
The Official Guide to Names,
Titles, and Forms of Address
By Robert Hickey
"An essential purchase for all libraries"
  — Library Journal
"A must-have reference for all organizations with international affiliations"
— National Council for International Visitors
"A helpful guide, intricately researched"
  — The Washington Diplomat
"there is no better source than Honor & Respect"
   — American Association of Law Libraries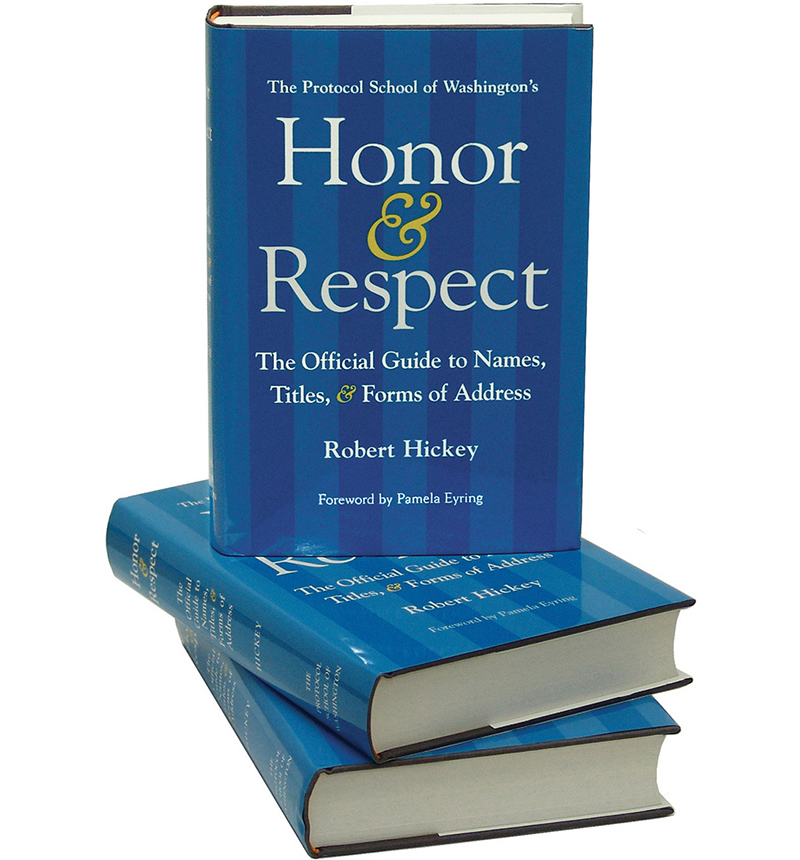 If you would like to order an autographed copy of the hardcover edition, send an e-mail to Robert Hickey.
He can inscribe a copy for you.
Honor & Respect provides clear guidelines on how to:
• Address an official envelope and prepare the address block on a letter
• Write the best salutation
• Determine the right level of formality for the complimentary close
• Address an envelope for social correspondence or an invitation
• Prepare the inside envelope of an invitation
• Write a place card or a name badge
• Choose the best phrases when making a formal introduction
• Introduce one person to another
• Refer to the other person in a conversation
The Comprehensive Reference Covering More Officials, In More Organizations Than Any Book Available Today
• Social forms for doctors, lawyers, professors, judges, etc.
• Government officials from more than 180 countries: from Afghanistan to Zimbabwe
• Executive, legislative, and judicial officials: both elected and appointed
• Military: armed services personnel including enlisted as well as officers
• Diplomats and representatives to international organizations
• Retired officers and former officials
• Officials with two honorifics or courtesy titles
• Religious officials: Every major religious group
(many widely available here for the first time)
including: Baha'i, Buddhist, Catholic, Christian Orthodox, Hindu, Jehovah's Witnesses, Jewish, Mormons, Protestant Christian
(various denominations)

,
Muslim
(
Shiite and Sunni
)
, Salvation Army, Sikh, Zoroastrian,
and more
•Ruling royal and noble families from every current form of government: kingdom, sultanate, duchy, principality, emirate,
and others
• Native American tribal leaders
• Glossary of terms such as air marshal, bailiff, curate, elector, flag officer, governor-general, internuncio, legate, mufti, notary, privy councillor, rector, solicitor, viceroy,
and many more
• How to use honorifics and courtesy titles such as
the Honorable, the Honourable, the Reverend, Your Excellency,Your Eminence

,
and more
• Abbreviations and post nominals: academic, honorary, decorations, orders,
and more
• Precedence and joint forms of address
Expanded & Updated Second Edition
6″ x 9″ hardcover library binding
576 pages with a complete index
Smyth-sewn to lie flat for easy reference.
Archival acid-free paper
ISBN: 978-0-9891886-0–9
Price: $80.00 + shipping and handling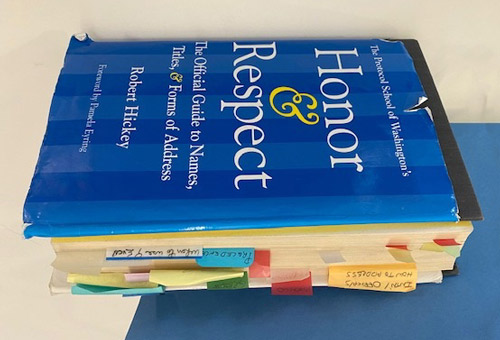 Honor & Respect
Dear Mr. Hickey:
If you ever wondered about impact of your book, then take a look at this photo. Today was the last visiting delegation we had to handle this week. In the past four days we've hosted delegations from nine countries.  Your book has been a lifeline in my preparation, and I just wanted to let you know how much I value your knowledge and am grateful for your book. Thank you for spending the time to write it.
Respectfully,
Chief of Protocol
Office of External Engagement (Federal Agency), Washington, DC
Robert Hickey author of "Honor & Respect"
Robert Hickey author of "Honor & Respect"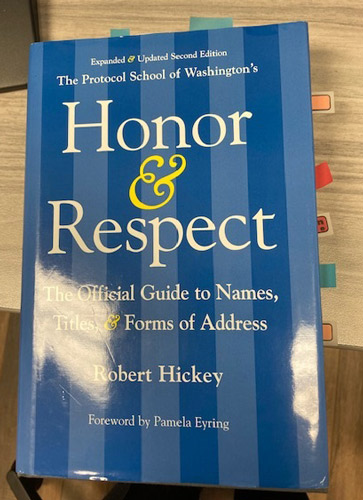 Dear Robert,
Here is my copy of your book with my tabs to the pages I refer to the most often.   I use the book almost everyday. Maybe even more so at my previous job in U.S. Government Aerospace, but it's still of so much value now in my corporate job.  What a fantastic resource you have given protocol professionals and anyone who needs a guide on names, titles, and forms of address. I have recommended it to administrative and executive assistants and others over the years.
— Protocol and Events
    DoD Supplier
Reviews of  Honor & Respect
"One doesn't need to update this type of reference book often but this one is made to last and well worth the price. An essential purchase for all libraries."
"… if you want a detailed, comprehensive, and up-to-date guide to names, titles, and forms of address—one that does not begin and end with the standard U.S. officials— there is no better source than Honor & Respect."
"Need Guidance on Proper Forms of Address or Making Formal Introductions?"
"If it took him seven years to write it I think it may just take me 14 years to learn it!"
"This book is an essential to anyone who works with government or military personnel."
"… a must-have reference for all organizations with international affiliations …"
"a helpful guide … intricately researched"
"Robert Hickey's book … is an invaluable resource"
"I recommend this book to every law firm, bank, university, and especially, government contractor, with whom I consult"
"I keep it at arm's length an refer to it whenever I need a clear definitive solution to an important question"
"the bible of protocol/etiquette"
"this book can be your guide to doing it correctly"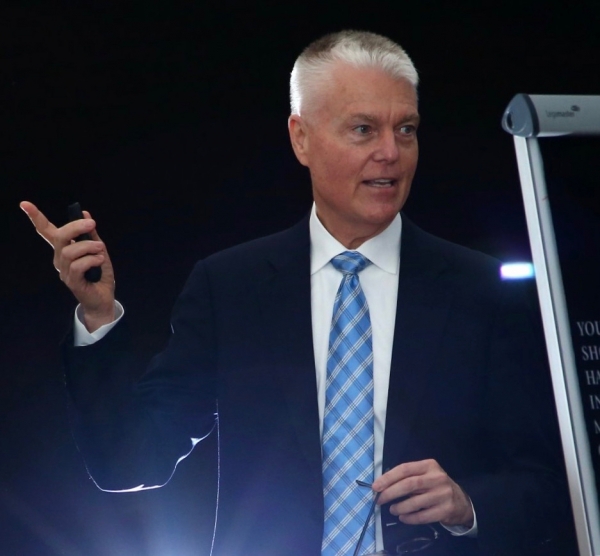 Robert Hickey
Robert Hickey, deputy director of The Protocol School of Washington®  (PSOW), has been with the School since its first training in 1988.
Mr. Hickey presents on a variety of topics including personal diplomacy, official gifts, culture and flags, but is recognized for his knowledge on the use of titles and forms of address in official situations.
With the Protocol School he has presented classes all over the USA and in Canada, Trinidad & Tobago, Germany, Turkey, Iraq, Saudi Arabia, Bahrain, Qatar, the United Arab Emirates.
He updated and revised the fourth edition of "The Blue Book of Stationery" with Pamela Eyring, published by Crane & Co., a guide to the use of stationery, invitations, and many other paper items for social and corporate correspondence and entertaining.
As part of the PSOW's Protocol Officer Training™ – Level I Certification program, he teaches titles and forms of address and expands on the topics covered in this volume.
Mr. Hickey is a graduate of the University of Virginia. He was coordinator of publications at George Mason University, and an instructor in the Publication Specialist Program at George Washington University. He lives in New York City.
Author Photo: Brad Fowler
Book Photo: Marc Goodman
Robert Hickey author of "Honor & Respect"
Robert Hickey author of "Honor & Respect"